Project Pericles is deeply saddened
by the loss of our founder and Chair Emeritus, Eugene M. Lang
Commentators often described Mr. Lang as the "most creative philanthropist in America." The combination of entrepreneurial instincts and creative imagination that fueled his diverse business ventures around the world characterized his philanthropic ventures as well. He initiated education, health and arts enterprises that are recognized for their ingenuity and transformational accomplishments. The recipient of many honors, he was deeply honored to receive the nation's highest civilian award, the Presidential Medal of Freedom, from President Bill Clinton. President George H.W. Bush also designated him as a "Point of Light." In 2008, the National Conference on Citizenship named him "Citizen of the Year."
Mr. Lang was a visionary expressing concern about our democracy, civic engagement, and social responsibility long before it was fashionable. From its inception in 2001, Mr. Lang's leadership, passion, and support enabled Project Pericles to grow and thrive while pursuing its mission of promoting civic engagement.
In 1999, Lang wrote "The philosophy of liberal arts is the philosophy of a democratic society in which citizenship, social responsibility, and community are inseparable. An educated citizenry is the essential instrument for promoting responsible social action and community well-being" ("Distinctively American: The Residential Liberal Arts Colleges," Daedalus, Winter).
Under his guidance, Project Pericles developed many of its signature initiatives including the Civic Engagement Course (CEC) Program™, Debating for Democracy (D4D)™, and Periclean Faculty Leadership (PFL) Program™. These programs reach thousands of college students every year.
In lieu of flowers, the Lang Family suggests contributions to Project Pericles one of many organizations Mr. Lang supported.
Mr. Lang's obituary in The New York Times is available here.


---
---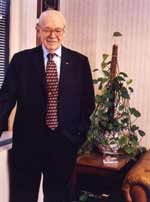 For over 60 years, Eugene M. Lang pursued a business career, creating a succession of diverse manufacturing ventures in the United States and abroad based on new products and innovative technologies. A charter member of the Licensing Executives Association, he became recognized internationally as having pioneered licensing and technology transfer as practical means for small American manufacturers to establish their business potential in overseas markets. Reflecting his accomplishments, Forbes Magazine characterized him as 'the quintessential entrepreneur' and Nation's Business 'a father of innovation.' An active protagonist of small business interests, he received the Government's 'E' Award from President Kennedy. As an expert in entrepreneurial ventures and small business development, he served with distinction on various U.S. Government commissions and represented the United States as a member of seven overseas economic and investment missions of the Commerce and State Departments.
Since establishing the Eugene M. Lang Foundation in 1963, Mr. Lang has increasingly directed his time and talents to philanthropy. In 1997, he terminated all business activities to devote himself exclusively to philanthropy through his foundation. The well-known 'I Have a Dream' Program that he created in 1981 has become a nationwide enterprise that operates in over seventy-five cities, providing sustained personalized guidance and support to many thousands of disadvantaged children (identified as 'Dreamers') throughout their K-12 years plus an assured college opportunity. In 2001, he established 'Project Pericles' as a seminal facility to promote preparation for responsible citizenship as a curricular component of higher education. Over the years, he has created a variety of innovative scholarships, academic and social performance incentives, fellowships, and chairs at many colleges. He has supported and endowed numerous internships, researchers and socially-oriented projects for students and faculty. His philanthropies, focused primarily on education, altogether exceed $150,000,000.
Mr. Lang has had service relationships with many institutions. Among them, he is currently Chairman Emeritus of Swarthmore College, founder and Chairman Emeritus of the national 'I Have a Dream' Foundation, founder and Chairman Emeritus of the Conference of Board Chairmen of Liberal Arts Colleges, and board member of the Columbia Business School where he established the Eugene M. Lang Center for Entrepreneurship, the Carnegie-Mellon Graduate School of Management, the New School University whose undergraduate liberal arts college bears his name, and the Individual Investors Advisory Committee of the New York Stock Exchange. He has received many distinctions and awards, including 29 honorary degrees. Recognizing his services to education, President Bush designated him a 'Point of Light' and President Clinton awarded him the Presidential Medal of Freedom, this country's highest civilian award.
Mr. Lang, born of immigrant parents in 1919, grew up in New York City during the Great Depression. A 1938 graduate of Swarthmore College, he earned an MS degree from Columbia University and studied mechanical engineering at the Brooklyn Polytechnic Institute. He is a member of the Century Club and Yale Club. He has three children, eight grandchildren and eight great-grandchildren.