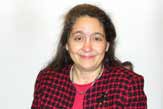 Jan R. Liss has served as Executive Director of Project Pericles since 2005. During her tenure at Project Pericles, she has developed, launched, and implemented the Civic Engagement Course (CEC) Program™, Debating for Democracy (D4D)™, the Periclean Faculty Leadership (PFL) Program™, and Creating Cohesive Paths to Civic Engagement. In 2009, the White Paper, "Civic Engagement in the Classroom: Strategies for Incorporating Education for Civic and Social Responsibility in the Undergraduate Curriculum," by Ariane Liazos and Ms. Liss, shares the learnings from the CEC program. The article, "Incorporating Education for Civic and Social Responsibility into the Undergraduate Curriculum," by Ms. Liss and Ariane Liazos is published in the January/February 2010 issue of Change magazine. In 2012, she co-authored a White Paper "The Periclean Diamond: Linking College, Campuses, Communities, and Colleagues via Social and Civic High Engagement Learning" with Ben Berger, Associate Professor of Political Science and Periclean Faculty Leader at Swarthmore College, that shares insights from the Periclean Faculty Leadership program.
Ms. Liss graduated from Reed College with a BA in Psychology and earned her MBA from the Yale University School of Management. In 2008, she was a Tenenbaum Leadership Initiative Fellow at Milano, The New School for Management and Urban Policy.
Ms. Liss has thirty years of senior leadership in management, planning, and financial development for a wide range of academic/educational organizations, including The Aspen Institute, Consumers Union (publisher of Consumer Reports and ConsumerReports.org), The New York Public Library, The Brookings Institution, American Express, and The Portland Art Association (Oregon). As an independent consultant to academic and not-for-profit institutions, she has served clients that include The Aspen Institute, Columbia University, and the University of Missouri School of Law on matters of strategic planning, curriculum planning, and publishing.
From 1985 to 2000, Ms. Liss served in senior management at Consumers Union. As Vice-President for Strategic Planning and Business Development, she was a member of the Policy Committee, the team that shaped and directed the organization. She directed new product and services development and evaluated business opportunities and developed, launched, and implemented Consumers Union's strategic plan.
Most recently, she was Associate Director of the Aspen Institute Business and Society Program and Director of CasePlace.org: Developing Leaders for a Sustainable Society. She led the design and launch of CasePlace.org, an interactive website of case studies and teaching materials that integrates societal issues and business strategies. She also developed the annual Walter V. Shipley Business Leadership Case Competition designed to boost the leadership and ethical decision-making capacity of business school students.
Ms. Liss serves on the Board of Directors of Project Pericles and the Board of Directors of College and Community Fellowship. She previously served on the Board of Trustees of Reed College.