On April 8 and 9, 2010, Project Pericles hosted the 2010 Debating for Democracy (D4D) National Conference in New York City for 60 student leaders from 26 Periclean colleges and universities. The event consisted of workshops, keynote addresses, panel discussions, and legislative hearings. The conference was supported by the Eugene M. Lang Foundation and was hosted by The New School.
A highlight of the two-day conference was the D4D Legislative Hearing. Groups of students from Periclean colleges and universities who wished to participate in the hearing submitted original letters to an elected official to Project Pericles addressing a variety of public policy issues. Project Pericles received 63 letters from 26 Periclean colleges and universities. A committee of judges with significant legislative experience selected six finalist letters.
At the conference, the six finalists presented their letters to legislators and an audience of students, faculty, and Board and Advisory Board members as well as political, education, foundation, and community leaders. The legislators included former U.S. Senators Bob Kerrey, and Harris Wofford. (Former Senator Nancy Kassebaum Baker, slated to be the third legislator, was unable to attend when her flight was canceled due to bad weather. However, her questions and suggestions for the students were presented during the hearing.) At the end of the event, the legislators selected the winning letter from Berea College. The Berea team will receive a $3,000 award that can be used to fund advocacy and education activities including lobbying trips and education workshops. The semi-finalist teams will each receive a $500 award to be used for the same purpose.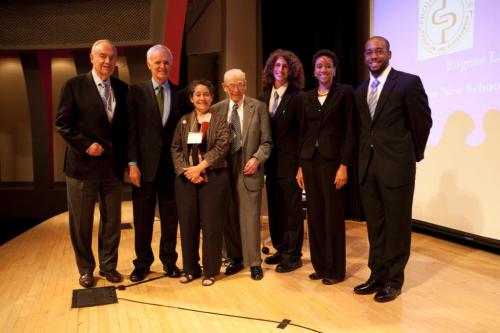 (L-R) Former U.S. Senators Harris Wofford and Bob Kerrey, Jan Liss, Executive Director, and Eugene Lang, Founder and Chair of Project Pericles, congratulate the Berea College team of Matthew Callo, Amber Stanton, and Charles Badger, winners of the 2010 Debating for Democracy Legislative Hearing competition.
The six Periclean teams that presented their proposals at the conference were:
Berea College, "The Neighborhood Stabilization Program (HR 3204): Establishing Community Development Organizations in Economically Disadvantaged Urban Areas to Congressman Spencer Bachus (R-AL)"
Carleton College, "A Letter in Support of a Holistic Federal Surface Transportation Bill to Senator Amy Klobuchar (D-MN"
Chatham University, "A Letter Concerning Childcare Subsidies to Congressman Michael Doyle (D-PA)"
Earlham College, "A Letter in Support of the Employment Non-Discrimination Act (ENDA) of 2009 to Congressman Mike Pence (R-IN)"
Elon University, "A Letter in Support of the Nuclear Energy Research Initiative Improvement Act to Senator Scott Brown (R-MA)"
Swarthmore College, "A Letter in Support of the DREAM Act to Senator Arlen Specter (D-PA)"
In addition to the legislative hearing, the D4D National Conference included workshops on social action, education, social entrepreneurship, journalism and democracy, and the environment, led by some of the top leaders in these fields. Speakers, panelists and workshop facilitators at the National Conference included Lisa Anderson (Columbia University School of Journalism), Seth Andrew (Democracy Prep Charter School), Grant Cornwell (The College of Wooster), Neil Gordon (Eugene Lang College), Adam Green (Rocking the Boat), Peter Harnik (Center for City Park Excellence, The Trust for Public Land), Maria Hinojosa (The Futuro Media Group), Susan Robinson King (Carnegie Corporation of New York), Christopher Kush (Soapbox Consulting), Leo Lambert (Elon University), Danielle Moss Lee (Harlem Education Activities Fund), Susan Liss (Brennan Center for Justice at New York University School of Law), Mimi Marziani (Brennan Center for Justice at New York University School of Law), Michael McPherson (Spencer Foundation), Mandara Meyers (Center for Progressive Leadership), Rebecca Onie (Project HEALTH), Lourdes Rosado (Juvenile Law Center), Brian Rosenberg (Macalester College), David del Ser (Frogtek), Dorothy Stoneman (YouthBuild USA), and Beth Coleman, whose team from Berea College won the 2008 D4D Legislative Hearing competition.
To learn more about the conference, including an in-depth look at the panels and workshops, read the May 2010 Periclean Progress E-Newsletter.